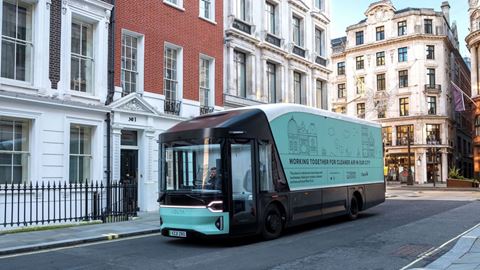 Volta Trucks, the leading and disruptive full-electric commercial vehicle manufacturer and services provider, has partnered with The Crown Estate, one of the West End of London's largest property owners, and Clipper Logistics, its distribution provider, to decarbonise and consolidate deliveries into London's world-famous Regent Street retailers, improving air quality and congestion in the city centre.
Set to launch as a trial in summer 2022, the full-electric Volta Zero is a key component of The Crown Estate's latest delivery consolidation scheme for its Regent Street customers as part of its ongoing commitment to reducing emissions throughout the West End.
The Crown Estate's London portfolio spans 10 million sq ft and comprises of Regent Street and around half of St James's, with an offer extending across the workplace, retail, dining, leisure, and residential sectors. Dating back more than 260 years, The Crown Estate is a unique business with a diverse portfolio across England, Wales and Northern Ireland. Its portfolio is actively managed to create lasting and shared prosperity for the nation, with a long-term view of creating meaningful and lasting financial, social, and environmental value, both today, and for future generations. It returns all of its profits to the Treasury to benefit the nation.
For The Crown Estate's Regent Street customers, this offers access to a single accessible consolidation centre, just outside London's congestion charge zone, where their deliveries are combined and dispatched to and from store.
With its range of 95 – 125 miles, the full-electric Volta Zero is perfectly suited to this role, offering zero-emission deliveries between the consolidation centre and stores. The purpose-built Volta Zero has been designed to be as safe as possible with a glasshouse-style cab that maximises driver visibility and provides industry-leading safety and driver working environment standards. Its large 8.6-tonne payload also removes several smaller 3.5-tonne vans from the streets, which helps reduce traffic congestion.  
Since 2008, Clipper Logistics have been working with The Crown Estate to operate the Regent Street delivery scheme, which has been consolidating multiple individual goods delivery trips into fewer combined journeys, helping to tackle London's traffic congestion, improving local air quality, and supporting retailer efficiency. The initiative was the first of its kind in London and has benefited many Regent Street customers.
Confirming the agreement with The Crown Estate and Clipper Logistics, Essa Al-Saleh, Chief Executive Officer of Volta Trucks, said; "The full-electric Volta Zero is specifically designed for zero-emission urban distribution with exactly The Crown Estate and Clipper Logistics' use case in mind. And with 8.6-tonnes of payload, it was created to consolidate deliveries and reduce congestion of smaller vehicles on city centre streets. I look forward to seeing The Crown Estate and Clipper Logistics-liveried vehicles operating on the famous streets of London's West End in only a few months' time."
Judith Everett, Executive Director for Purpose, Sustainability & Stakeholder at The Crown Estate, added; "This partnership is another important step towards reducing congestion, improving air quality, and making our streets safer and more accessible across the West End. It will be a win-win for us and our customers, helping support their deliveries and our joint sustainability ambitions. It builds on our continued work to trial and test to see what works best for everyone using our streets, now and in the future."
Mick Doe, Transport Operations Director at Clipper Logistics, concluded; "As a business, we recognise we are high milage road users, but we are committed to reducing unnecessary road miles, and ensuring that what we do accumulate is cleaner. We are delighted to partner with Volta Trucks and The Crown Estate as part of our on-going commitment to improving the Regent Street environment. The partnership demonstrates Clipper's agility and logistics ability by working to combat congestion and environmental impact in one of the world's busiest retail areas."
Editor's notes.
About the Volta Zero.
The Volta Zero is the world's first purpose-built full-electric 16-tonne vehicle designed for inner-city logistics, reducing the environmental impact of freight deliveries in city centres. Designed from the ground up with an operating pure-electric range of 150 – 200 kms (95 – 125 miles), the Volta Zero will eliminate an estimated 1.2M tonnes of CO2 by 2025. 
Safety is also at the heart of Volta Trucks, with its ambition of producing the safest trucks for our cities. The Volta Zero was designed for electric from the outset, which facilitates a step-change in vehicle, driver and pedestrian safety. Thanks to the removal of the internal combustion engine, the operator of a Volta Zero sits in a central driving position, with a much lower seat height than a conventional truck. This combination, plus a glass house-style cab design, gives the driver a wide 220-degrees of visibility, minimising dangerous blind spots. The prototype Volta Zero was launched in September 2020, with the first vehicles expected to be operating with customers in mid-2022.
About Volta Trucks.
Volta Trucks is a scale-up full-electric commercial vehicle manufacturer and services company. Volta Trucks' Head Office is in Stockholm, Sweden, with its engineering led from the UK, and forthcoming manufacturing facility in Steyr, Austria. The company also has sales teams across France, Spain, Italy, Germany, and the UK. Volta Trucks is partnering with a number of global leaders in the supply chain for the development and production of the Volta Zero.
About The Crown Estate:  
The Crown Estate is a unique business with a diverse portfolio that stretches across the country. We actively manage our assets in line with our purpose: to create lasting and shared prosperity for the nation. Our portfolio includes some of central London's best places to work, shop, live and experience, as well as regional retail and leisure destinations across the country, a substantial rural portfolio, a number of mixed-use and strategic land opportunities, and the Windsor Estate, including the world-renowned Windsor Great Park.   
We also manage the seabed and half the foreshore around England, Wales and Northern Ireland, and therefore play a fundamental role in the sustainable development of this important national asset, including in the UK's world-leading offshore wind sector as well as marine aggregates, cables and pipelines and CCUS.  Established by an Act of Parliament, we are tasked with generating profit for the Treasury for the benefit of the nation's finances, this has totalled £3bn over the last ten years. 
About The Crown Estate's Central London portfolio:  
With a London portfolio spanning 10 million sq ft, we are one of the West End's largest property owners, with a diverse customer base. Comprising Regent Street and around half of St James's, our offer extends across the workplace, retail, dining, leisure and residential sectors. Over the last decade, we've built on the outstanding heritage of our destinations, to deliver a modern, connected West End that is designed around the needs of the people who use our spaces now and for generations to come.
We have also been working to make the West End greener and more sustainable through improvements to public spaces, accessibility, air quality and biodiversity. Our investment programme continues to drive change in central London and bring people to the city, helping to support the changing needs of our capital's population and visitors, and ensure it maintains its relevance as a global city.