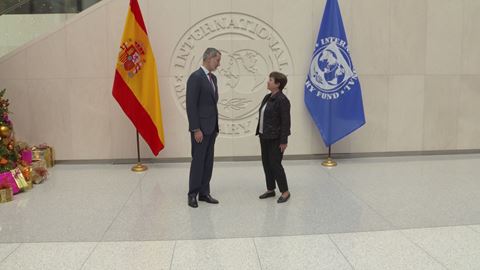 King Felipe VI of Spain visited IMF Headquarters in Washington today (02 Dec). The IMF's Managing Director, Kristalina Georgieva, along with First Deputy Managing Director Gita Gopinath and Deputy Managing Director Antoinette Sayeh welcomed him and hosted a lunch in his honor.
"We are greatly honored to host King Felipe who has been a voice of reason. Obviously, not only to the Spanish people, but to everyone in European and in the world. And it is exactly at a time of difficulty when we need to be together, him deciding to visit the Fund for my colleagues here, for me, is an indication that, that in tough times, the IMF matters to our members. We are very fortunate to have Nadia Calvino to chair the IMFC, and I will have an opportunity to tell the king how much we appreciate her contribution to the world in this very difficult time. Thank you so much." said Georgieva.  
To learn more about the IMF and Spain's work, click here.