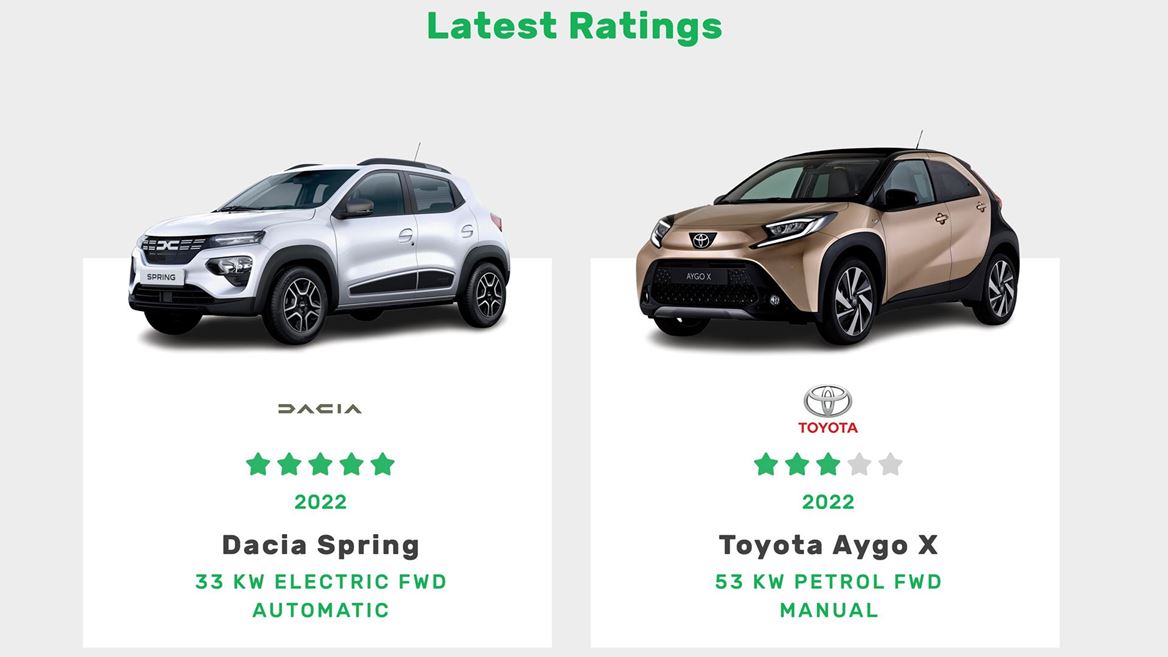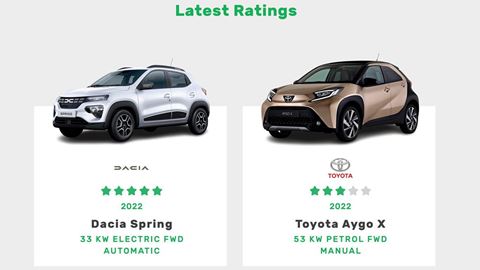 Dacia Spring
33 kW electric FWD automatic – 5 stars
Dacia's new electric model – the Spring – is a compact city vehicle of a SUV design. Its modest power of 33 kW limits the dynamic characterisitcs, but will appeal to those looking for functional, clean, efficient and affordable individual urban mobility. At 23°C ambient temperature, a driving range of about 140 km can be expected on the Highway. The test results prove the Spring to be an environmentally friendly car, not only due to the absence of local pollutant emissions but also because of its low energy consumption. With 5 Green Stars and an overall index of 9.9, Dacia's super mini sets an example to others.
Toyota Aygo X
53 kW petrol FWD manual – 3 stars
Toyota's Aygo X is a super mini urban SUV with relatively low power, mostly targeting the younger audience. The consumption figures are moderate and depend greatly on driving style, whereas the demand for petrol can vary from 3 to 7 l/100 km. The greenhouse gas index is related to the consumption and any fuel saving measure will also increase its score of the currently modest 4.8/10. Pollutant control is good in most cases, but additional effort is needed to prevent high emissions under cold ambient conditions. The score for the Clean Air Index would also benefit from measures to reduce particle output. Overall, the Aygo X finishes with a weighted index of 5.6/10 and confidently collects 3 Green Stars – a creditable result for a naturally aspirated petrol-engined car.
Read all about it in the datasheets!
Editor's Note
For full results, visit www.GreenNCAP.com.
For media information, please contact us at media@GreenNCAP.com.
Follow us online and on social media: