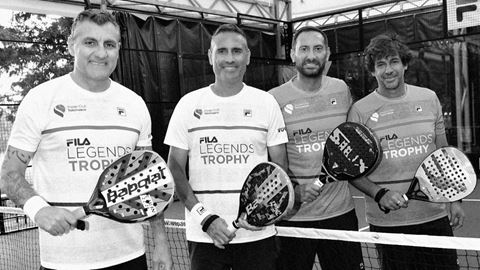 (FILA Luxembourg S.à r.l.) – FILA is proud to announce our brand's entry into the world of Padel: FILA will in fact be the Title Sponsor of the Legends Padel Trophy, scheduled for June 6 and 7 at the Tolcinasco Padel Club, just outside Milan. It will be a high media impact event, as the participants will all be famous former footballers from Italy, Spain, the Netherlands, and Argentina. Among them are two historical legends who wore the Italian brand in the 1990s and the early '00s and will return to wear the F-Box for the occasion: former Fiorentina bomber Gabriel Batistuta of Argentina, and the Italian Paolo Di Canio, former West Ham player.
Former footballers have become a powerful vehicle of amplification for the spread of padel, thanks to the numbers of online followers they have as well as to the interest of news media, sports-related and otherwise, that continue to showcase the spirit of competitiveness that these champions still have in their blood. Our visibility will therefore be guaranteed during the two days of preliminaries and finals.
The brand will be present in the form of clothing supplied to the staff and a welcome kit for all participants containing 2 competition jerseys, shorts, the "Settanta" jacket, wristbands, socks, and cap.
With this partnership, FILA approaches the world of padel from a different angle than all the other competing brands. For our debut, we have chosen an event that perfectly combines sport-fashion and lifestyle, characteristics inherent in our collections and that have always distinguished our style.