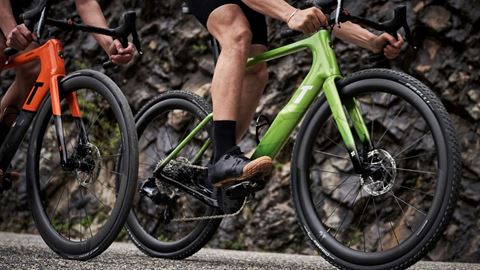 New models inspired by super sports cars
Sant'Agata Bolognese, 8 June 2023 –The collaboration between Automobili Lamborghini and 3T, the world-renowned manufacturer of luxury bicycles, continues with two new high-end models that embody the Italian excellence of super sports cars.
After the success of the Exploro Racemax x Huracán Sterrato in 2022, which combined 3T's experience in gravel bicycle design with Lamborghini's style and high performance, two new bike models are now born: the Racemax x Automobili Lamborghini gravel version in Verde Selvans and Oro Elios, and the Strada x Automobili Lamborghini variant in Arancio Apodis and Viola Pasifae.
The new Racemax x AutomobiliLamborghini gravel bike is assembled with 3T carbon components that make it fast and light, all Made in Italy. The Strada x Automobili Lamborghini bike, the first in this category launched in collaboration, has been created with the aim of achieving high levels of aerodynamics and comfort. It is characterized by two distinct zones: the "speed zone" in the front half of the bike, and the "comfort zone", which features the curved seat tube integrated within the frame and equipped with the best set of 3T carbon wheels.
The bikes' design was developed in collaboration with Lamborghini Centro Stile, with the designers drawing inspiration from iconic Lamborghini super sports cars for the choice of colors. The bikes are made with the highest quality materials and incorporate high-end components, such as carbon fiber wheels and electronic shifting.
The collaboration between Lamborghini and 3T is guided by the sharing of the same values, reflected in the craftsmanship and excellence of Made in Italy, where meticulous attention to detail, tradition and innovation translates into products sought after across the world.
The new 3T models for Automobili Lamborghini are available on: https://3tcollaboration.bike/3tforautomobililamborghini/ and deliverable from September 2023.