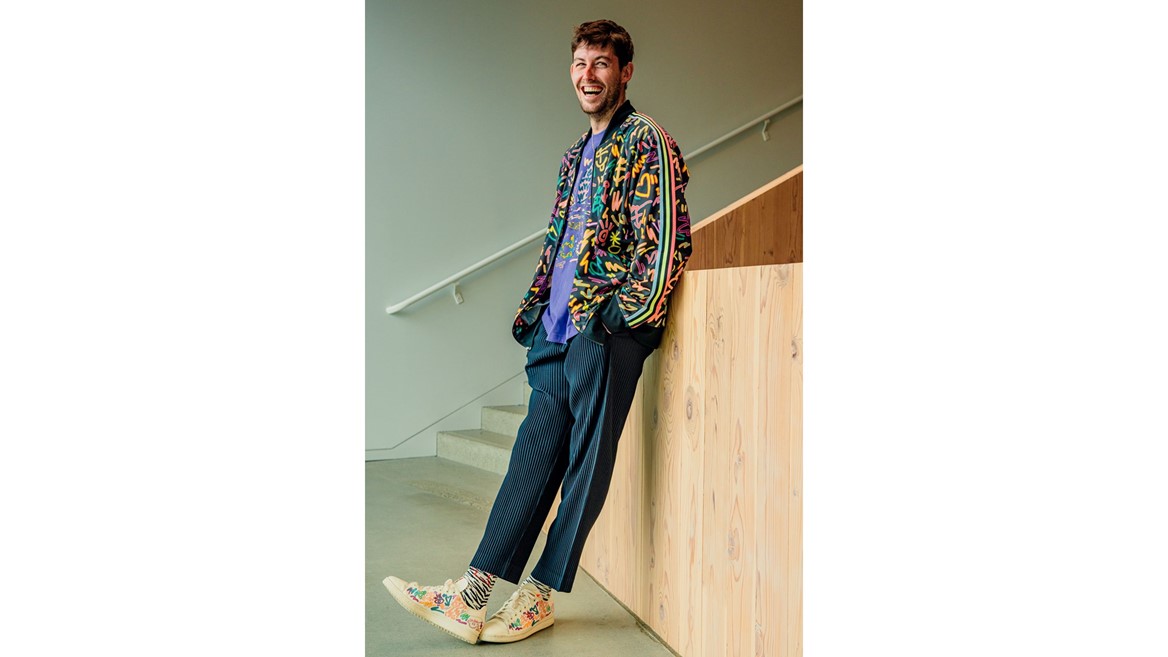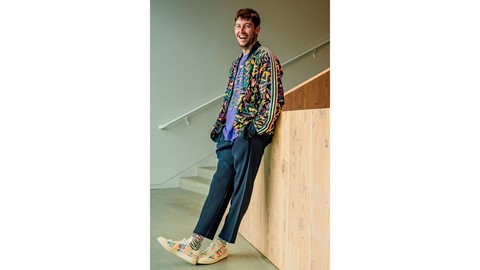 Pride month is both expressive and a deeply important cultural moment to recognize the trials, challenges, and progress of LGBTQIA+ acceptance. One of the most expressive forms of both being out and standing in solidarity for gay rights is through art, design and fashion. This Pride month, we look to the fashion community to unveil a collaboration with queer artist, Kris Andrew Small, a native of Sydney, Australia, who is known for creating bold works of art with a joyful explosion of colors and patterns.
The collection is inspired by the pop art and graphic design of the '70s and '80s and highly regarded voices in the LGBTQIA+ community. Kris and adidas' goal for the collection is to bring visibility to the many voices of the LGBTQIA+ community, honoring those like Kris and so many others who continue to push society forward.
adidas recently sat down with Kris to talk about his journey to becoming an artist and the ways he sees how design can influence society.
You grew up in Australia. How would you describe your youth and upbringing?
I was born in Sydney, but I grew up in Brisbane, which is one-hour north. It's really tropical. I didn't like growing up there because – in a way – it's a small town. I was pretty eager to get out of there, but at the same time I realized later on that it's had a profound effect on the way that I am.
After moving to the UK when I was 20, I found myself back in Australia when visas ran out, and that's where I began to realize the impact Brisbane had made. It's an opinionated place as well, and I have a lot of opinions and people don't really take well to those. There's kind of two sides of it I guess, it's conservative in some ways, and I always think when things are conservative, it pushes people to an extreme. I had a pretty conservative upbringing, not my family, but from my general environment. I was always told being an artistic was crazy and I was made to feel really insecure about being gay. These things pushed me to focus on those aspects of myself and to push back against conservative thinking.
Known for his energetic and loud work, Kris' journey into the design space was not linear. Through his journey from graphic design to advertising to creating abstract designs for some of the world's top brands, Kris says his art has helped him find comfort in all the facets of his identity and emboldens others to do the same.
How and when did you find art in your life?
I didn't know what else to do to be honest. I was not very good at school. The only thing I liked was art and drama and things like that. I don't think I had one of those "light bulb" moments like you often read about artists who were always good at painting and drawing. I was not one of those kids, but I worked at it and became better. I was never 100% convinced I was actually an artist.
I didn't know what else to do and I applied to study film in school. I studied at a private college, and it was the first time that I met people that were working in a creative industry, and they showed me how to work really hard. Next, I went to study graphic design, which I hated but also loved at the same time. It was a way to learn the tools. I then worked in advertising and hated that. I tried a lot of things, but I had a lot of fun and made things along the way. I began to embed my opinions on the planet and myself in my work, it took off and I managed to build a career out of it, which is still very surreal because it felt very quick, but it was seven years up to that point.
If you were to reflect, what are some of your proudest moments on that journey?
There are a few I'm really proud of. My first exhibition because I had the courage to do it. I was naive and had no expectations. I did it and then I went on holiday with my mum and returned to all these emails asking me if I wanted to work on new projects. It was strange because I had had no expectations from this exhibition. I just wanted to make the work and I was hoping that it would hit a nerve and lead to something. From that day on, I never really felt like art was my job, but I earned money from it. Within six months of having an exhibition, I was in America and being offered big opportunities.
Near the start of the pandemic, Kris began prioritizing more personal work to process and share his views on the impactful things happening around the world. Notably at the heart of his work is a message of empowerment and support for the LGBTQIA+ community and in his often-abstract patterns and illustrations are hidden messages of acceptance and self-love, of being true to yourself.
This boldness and unencumbered approach to life are the pillars of Kris' unique design style so many know and love today – a style that rejects formality and embraces self-expression. Kris now openly talks about his experience being queer and draws inspiration for his work from his sexuality and life as whole. "When I was younger that I was so scared to be Queer, what gave me strength was when I started actually showing that side of me and putting it in my work, it made me feel liberated and free."
How were you first approached by the adidas?
I love adidas and I love sneakers, I always have. An adidas designer reached out to me about doing a trefoil for the adidas badge of sport and one for a Pride project. Then COVID hit and plans changed. It came back about six months later, and I was super excited to take it on. It snowballed into this giant project. I said, if you want my design input on a Superstar then I truly want to design the Superstar end to end. I designed the whole collection in collaboration with the adidas design team, sent it to them and I think the team was in shock because they weren't expecting that much from me.
I genuinely enjoy what I do, and I've had the flip side of doing things that I hated doing. So now that I am doing something I love, I want to make the best output. I'm going to do the best sneaker I can, and then one sneaker became nine sneakers now I think it's 12.
Kris' collection with adidas is a big celebration of movement, color and joy. While indisputably bold, the collection embraces a tweaked approach to the traditional Pride rainbow and visual language associated with Pride month. Still, representation of the LBGTQIA+ community is evident in the collection's abstract representation of the celebratory nature of Pride.
The collection is a celebration. Can you break down the design aspects and choices for the collection?
It celebrates a lot of things: movement, color, and joy. Each part of the collection, I wanted it to have its own identity. I started with the originals AOP squiggle design, which became the base of everything. I see that as an abstract representation of pride, it's like a bunch of people dancing and having fun. And then the typography crosses each other and link everything together. One character goes over to the Dungarees and he's hanging out there and they disperse across the product lines in unique ways, with unique characters appearing on each.
My favorite piece in the collection is the Superstar because that was right towards the end of the design process. I was wrapping up and I think this silhouette is one of the most iconic in the history of footwear. The other heroes are the Dungarees and the track suit. Talk about iconic, the track suit was such a special piece and pulled from the heritage of what I envisioned in my youth happening in culture. Then I named the characters that show up in the collection, that was fun. None of them have genders and the main character is Klaus.
Kris uses his practice to uplift educate and provide a voice for those unable to use theirs. In his often-abstract patterns and illustrations are hidden messages of acceptance and self-love; and allowing that to guide your artistic vision. The Pride collection is available now at adidas.com/us/pride.